The Olivia, a lovely villa with pool in the heart of Tuscany
Perched on a hillside covered with olive trees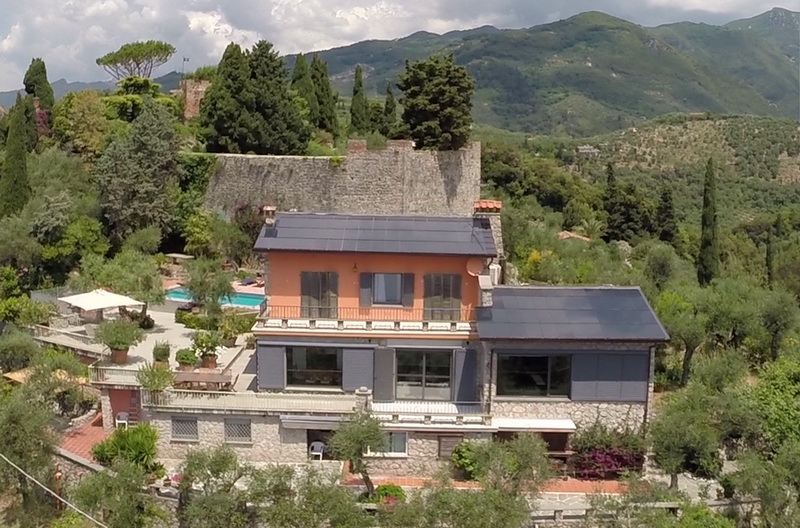 In its imposing site on a hillside covered with olive trees, at the foot of a castle, the Olivia, which is owned by a local family, is the place of your dreams. A private road and no neighbours. Wherever you look, beauty surrounds you:
to the South there is a panoramic view to the sea, 5 km away, with the superbly equipped beaches in Versilia which are swept clean every day,
to the North, the high slope which protects the castle with its huge stones steeped in history and smothered in lush colourful plants,
to the East, splendid mountains with little villages nestling on their slopes,
and the villa is surrounded by 3,500 m2 of olive groves. The 300 m2 of terraces which surround the villa are studded with flowers, lemon trees and mandarin trees and are organised into different areas, each with its own distinctive character. There is a swimming pool, a hot or cold water shower, a small bar area with refrigerator, a table-tennis table made of stone, a covered parking area, areas in the shade and in the sun and two large tables one of which is under cover to let you savour everything in Italy's culinary treasure chest.
A completely renovated villa of character:
well-appointed comfort, spaces full of light and the regional marble
Constructed, furnished and equipped using exclusively natural materials, the Olivia is a living space of quality. It offers 250 m2 on two levels comprising:
a fitted kitchen (induction hob, washing machine, dishwasher, multi-functional oven, micro-wave oven, American refrigerator with ice-making machine, built-in coffee-machine,
a large living room, a foyer with a fountain, a dining room,
4 double bedrooms , 3 on the first floor and 1 on the ground floor, 1 bathroom, 3 shower rooms, large capacity (300 litres) water heater
central heating and air conditioning, telephone, satellite television (ASTRA/French channels), DVD player, WIFI Internet connection
sound system on the ground floor and patios via your iPod
electrically controlled sun shade and mosquito screen on the ground floor
And in addition all around there are prestigious towns, unique sites, curiosities...
Nearby Pietrasanta whose alleys reveal the traces of sculptors in marble. Some ten kilometres in either direction from Camaiore are situated Forte dei Marmi and Viareggio with every kind of shop considered in Italy as "Italian through and through" each one more trendy and attractive than the other. There is also, next to Amaiore, the prestigious Torre del Lago site, where perched on the bank of the lake is the Puccini Theatre and the house where he lived. It is one of the largest open air theatres in the world. The Cinque Terre and the port of Viareggio where the finest yachts in the world are constructed. The marble caves at Carrare. And unmissable towns: Lucca, Firenze, Siena with its Palio, or bare-back horse-racing, San Geminiano, Volterra, all located within a radius of 120 km. (Useful links for Tuscany region)
Markets: 100% fashion and pure wool
The local markets are totally fascinating. Especially here where fashion dictates shades and colours and where woollen textiles in 100% mohair, cashmere or pure wool made in Italy delight those who like trendy or classic garments. Not to forget the Italian shoe industry which also enjoys a well-earned reputation. Information on the main markets in summer and winter, opening days and times, places and what they offer (including fresh produce) can be obtained by clicking on the link, infos.
The Olivia in winter: golf, skiing, thermal baths, laid-back lifestyle, fantastic sales, curiosities…
Even in the middle of winter it is often possible to have lunch on the patio in a T-shirt. Apart from this very considerable attraction, there are lots of activities to be enjoyed far from the summer crowd: an 18-hole golf course in a superb setting, the famous Viareggio Carnival, alpine skiing with 50 km of pistes and cross-country skiing with 15 km of trails at the Abetone winter sports resort north of Florence, the thermal baths of Montecatini, the Antiques Market in Lucca... Click on info for all the details.
Shops, restaurants, the right addresses...
Click on info and discover a list of everything to do with the pleasures of the table.